The FAA capped off a lousy year (2020) with a nice gift to the unmanned aviation community. The new Remote ID policy promises to give drone pilots greater access to airspace and formerly restricted operations. But how do we pilots implement it, and when do we start?
Unless you have taken a break from the internet for the last month, you've probably heard about the FAA's new ruling on UAS Remote Identification (Remote ID, or RID). Over a year in the making, the new rule removes many barriers to commercial drone operations, at the minor inconvenience of broadcasting a location signal.
The need for RID policy was originally proposed in 2017, and a special committee convened for the purpose. The proposed rules circulated for public comment in early 2020, culminating in the announcement of the final ruling.
Here's how the future looks.
December, 2020: FAA announces final Remote ID ruling (14 CFR 89, or "Part 89").
January, 2021: 14 CFR 89 published to Federal Register.
March, 2021: 14 CFR 89 becomes effective.
September, 2022: FRIA applications accepted by FAA.
September, 2022: Manufacturer compliance required.
September, 2023: Operator compliance required.
So, we have the policy, but how do we actually comply with it?
Part 89 states that the aircraft shall transmit certain telemetry information (location, altitude, velocity, home point, etc.) via radio frequency. It suggests that Bluetooth and Wi-Fi technology are the most logical wireless protocols to use, and that the message recipients will be public officials' mobile devices within range of the broadcast. (Of note, Wi-Fi appears to be a more likely candidate due to its increased transmission range, and 4G/5G may not be far behind.)
Strictly speaking, this implies that an aircraft can comply with RID by transmitting a text message with the required data elements to a local air traffic controller's personal mobile phone. But this does not appear to match the intent of this policy—the language suggests that air traffic controllers and law enforcement personnel will use a specialized application to monitor all local unmanned traffic in real time, akin to a radar feed.
This demonstrates that the ruling does not specify implementation standards. Following the date of effectiveness, there is likely to be a 3-6 month period of clarifying the details of acceptable implementation—providers need to know exactly how the message traffic needs to be formatted, and what yet-to-be-developed application(s) the intended recipients will be using to monitor and collect data. Additionally, broadcast signal encryption is currently not permitted, which poses potential problems for manufacturers wishing to dual-use the drone's natively encrypted datalink. The options are to either transmit two signals (one encrypted, one unencrypted) through the same transmitter, or add a second transmitter to the aircraft.
Once the government-industry team settles upon the communication standards, there will be a period in which industry vendors race to the market with FAA-compliant devices. This period will include securing funding for the added research and development of a new or modified component (including software and firmware), designing the capability, obtaining FAA certification via a Declaration of Compliance, creating a manufacturing capacity, and marketing the product to drone consumers.

In parallel, air traffic controllers and law enforcement agencies will be developing mobile device applications to receive the RID data, and training their personnel on proper usage. That is, once they all agree on the "best" way to do this.

What This Means for Pilots
Standard Remote ID
There are no drones on the market today that can confidently state that they are "RID-compliant"—the guides for what "compliant" means are still under consideration. This is different from the drone being "RID-ready": if a drone's transceiver already operates in the 900 MHz or 2.4 GHz ISM bands (standard unlicensed Wi-Fi frequencies common to drones in North America), then it may be a simple software patch away from RID compliance (once the standard is finalized and the patch is developed, that is). These will be likely the first drones to satisfy the Standard Remote ID option, and most drones on the market today are already "RID-ready".
With this in mind, I would not recommend purchasing a new drone for the specific purpose of RID compliance until late 2021, or even 2022. Wait until the FAA publishes a list of approved models. Continue to fly your current drone, since you have a two-year grace period until operator compliance is mandatory.
If you do not currently have a drone, but are looking to buy one, here are some items to look for as being RID-ready.
Frequency (900 MHz or 2.4 GHz)
Regular Software/Firmware Updates
Magnetic Compass
Altimeter
Gyroscopic Sensors
GPS Receiver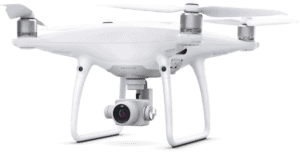 The DJI Phantom 4 Pro or the Phantom 4 Pro V2. For the 'Phantom' type platform, is a great entry-point model based on the following specs:
Camera Quality – Video – the Phantom 4 Pro records up to 4K, with a maximum bitrate of 100Mbps. With an ISO range of 100 to 6400
Camera Quality – Photo – the Phantom 4 Pro boasts a superior 20-megapixel shooter and its ISO range is an impressive 100 to 12800. It offers burst shooting with 14 images at a time, along with all the other modes you'd want.
Automation Tools – Obstacle Detection – the Phantom 4 Pro has stereo vision sensors in the front, that when coupled with the same sensors in the rear, and infrared sensors on each side, is proven to ensure avoiding obstacles and preventing any crash incidents.

Overall – If you truly want the best drone in the Phantom series, the Phantom 4 Pro V2.0 is one of the top 3 prosumer drones recommended for your drone startup business.
For current model details and pricing, please click HERE.
The DJI Mavic 2 Pro Series
The DJI Mavic 2 Pro platform is an ideal entry-point drone if portability is a priority.
Below are a few of the differentiating features between the Mavic series drones for consideration depending on the services you are currently or planning to offer:
DJI Mavic Pro – 12 megapixel resolution with a 1/2.3-inch Image Sensor, ISO range from 100 – 3200, and 60Mbps Video Bit Rate, 2.4 GHz frequency
DJI Mavic 2 Pro – 20 megapixel resolution with a 1-inch Image Sensor, ISO range from 100 – 12,800, and 100Mbps Video Bit Rate, OcuSync 2.4 to 5.8 GHz auto-switching
Mavic 2 Enterprise Advanced– [contact me for pricing before you purchase] (Visual/Thermal) 48MP with 32x zoom, ISO range from 100 – 12,800 (auto), 100Mbps Video Bit Rate, (Thermal) 640×512 Sensor Resolution, Photo and Video Capable, OcuSync 2.4 to 5.8 GHz auto-switching

Obstacle Detection

– the Mavic 2 Pro series offers Omnidirectional Obstacle Sensing on all sides, top and bottom, and proven to ensure avoiding obstacles and preventing any crash incidents.
For current model details and pricing, please click HERE.
DJI Inspire Series | Inspire 1 and Inspire 1 V2.0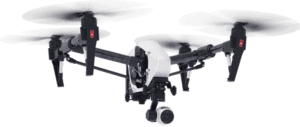 In the following section, I discuss the DJI Inspire 1 series drones. This platformis slightly larger than the Phantom "type" drones, but is a versatile quad-prop system that is well suited to perform the services I listed for the Phantom and Mavic drones. However, the Inspire series gives you added flexibility in that you can switch cameras or sensors.

The DJI Inspire 1 and the Inspire 1 V2.0 can be purchased as new, but for the new startup business, is also available as REFURBISHED and/or used. I am browsing eBay and I am finding many appealing options. From new and never used, to factory refurbished, and lightly used, there are plenty of options to consider. As you search the listings, take time to educate yourself on the accessories and prices. I see a bundle being sold by an individual that includes additional batteries, props, battery chargers, as well as 3 different cameras, including the Zenmuse XT2 which is an expensive sensor if purchased separately.
It is important to make this solution your first consideration. If I had it to do over again in the beginning, I would have gone this route. Outfitted with an Inspire 1, I would have been able to carry out all of the work I did with my Phantom 4 and Phantom 4 Pro, and I would have been able to take other projects that I passed on because of my equipment limitations.
At this price-point, you are spending about the same as you would if you purchased the Mavic 2 Pro Enterprise Dual (thermal). But with the Inspire 1, you are sporting industrial grade cameras and sensors rather than the limited sensors on the Mavic. Having this drone can help thrust you in to higher grade, and better paying opportunities.
*Before you purchase this drone, please contact me direct to provide a discounted price through my preferred DJI Enterprise Dealer*
When considering startup budget vs. ROI (return on investment), the Inspire 1 series drone over the aforementioned Phantom and Mavic series drones will pay for itself far more quickly because of the projects you will be able to take on. In my opinion, this makes the Inspire the better of the top 3 prosumer drones for your drone startup business.
Below are a few of the differentiating camera/sensors that the Inspire 1 offers:
Interchangeable Cameras | Sensors
For current model details and pricing, please click HERE.
Drones that do not natively operate in the suggested bands, or do not have the capability for a software patch, have the option of adding a Broadcast Module to comply with RID. There are no modules currently available, and only one company has submitted for intellectual property rights on the technology. Similar to the drone manufacturers, Broadcast Module manufacturers need clarification before they can build equipment to satisfy the rules.

Based on Part 89, the Broadcast Module has two basic requirements: (1) obtain the drone's telemetry data, and (2) broadcast it in the proper format, over the proper frequency. Building and installing such a module is challenging for a few reasons.
The optimal module collects its telemetry data directly from the drone's flight controller. The integration challenge is to interface with a variety of flight controller hardware. This requires the appropriate physical connection, as well as software to parse information and independently broadcast it, either through its own radio or over the drone's telemetry radio. It is difficult to build a "one-size-fits-all" solution, and there are bound to be some adapters and decoders required. Drone hardware and software interface standards are still in their infant stages of development, similar to where the computer mouse was in the 1980-2000 era (serial versus PS/2 versus USB), or where computer monitors still are today (VGA versus DVI versus HDMI). For drones lacking a plug-and-play hardware design, the pilot may even have to whip out the soldering iron to install the module!
Alternatively, the Broadcast Module may independently produce all telemetry data itself, requiring no interface with the flight controller. In this case, the module needs to provide its own position, altitude, velocity, and home point, without the assistance of the drone's onboard navigation equipment. Presumably, this means adding a GPS receiver, gyroscopic IMUs, barometric altimeter, and magnetic compass, each requiring their own periodic calibration. Such a device is also likely to use its own independent radio to transmit the signal. These requirements would add a substantial amount of bulky, heavy, and power-hungry hardware inside the drone—which is probably already near its maximum capacity.
How to Fly Without Remote ID
Part 89 does make allowances for drone operations without RID equipment for select organizations: a community-based organization (CBO) or educational institution may apply for an FAA-Recognized Identification Area (FRIA).
Again, we have the policy, but how do we actually comply with it?
Here are two more guidelines that the FAA acknowledges as being in development. First, the FAA does not yet have a method for an organization to apply for recognition as a CBO. Regulators probably had organizations such as the Academy of Model Aeronautics (AMA) in mind when they added this rule, but they have not yet established the method for AMA to apply for CBO designation. The strict definition of a CBO, and means to obtain certification as such, will be developed in the coming months.

Second, the FAA has yet to publish guidelines on where a FRIA may exist, or how a CBO requests FRIA designation. We can assume that there will be some basic rules involving proximity to certain classes of airspace and populated areas. What we don't yet know is if a pilot is required to be a member of the CBO in order to fly in its FRIA, or if any recreational pilot can fly inside a FRIA that was set up by a CBO. If the AMA successfully designates my community park as a FRIA, do I need to join the AMA in order to fly there? Can CBOs share a FRIA? In any case, the web portal and application process for our future CBOs to request a FRIA will be in development for some time, as the FAA will not begin accepting FRIA applications until circa September 2022.

There is a lot of excitement in the commercial drone community about Remote ID, as this will open up new operational areas and use cases for our systems. It will take the community some time to work up to this level, and the process will be irritating to some eager pilots.
Be patient, and don't rush to buy new equipment. The answers we are looking for will slowly come. The best thing we can do right now is hone our skills as aviation professionals, making sure that we are ready for the increased responsibility when the time finally comes.
In addition to removing many restrictions from drone operations, Part 89 stood out as an example of government-industry collaboration. The FAA reviewed and addressed over 53,000 comments from manufacturers, commercial remote pilots, academic institutions, and drone hobbyists. Many of these comments triggered significant changes to the draft policy.
The FAA has demonstrated its willingness to listen and learn from the professional drone community. As we enter the next year of learning about the new regulations, we can each do our part by staying involved in the drone ecosystem, and contribute toward a better future.