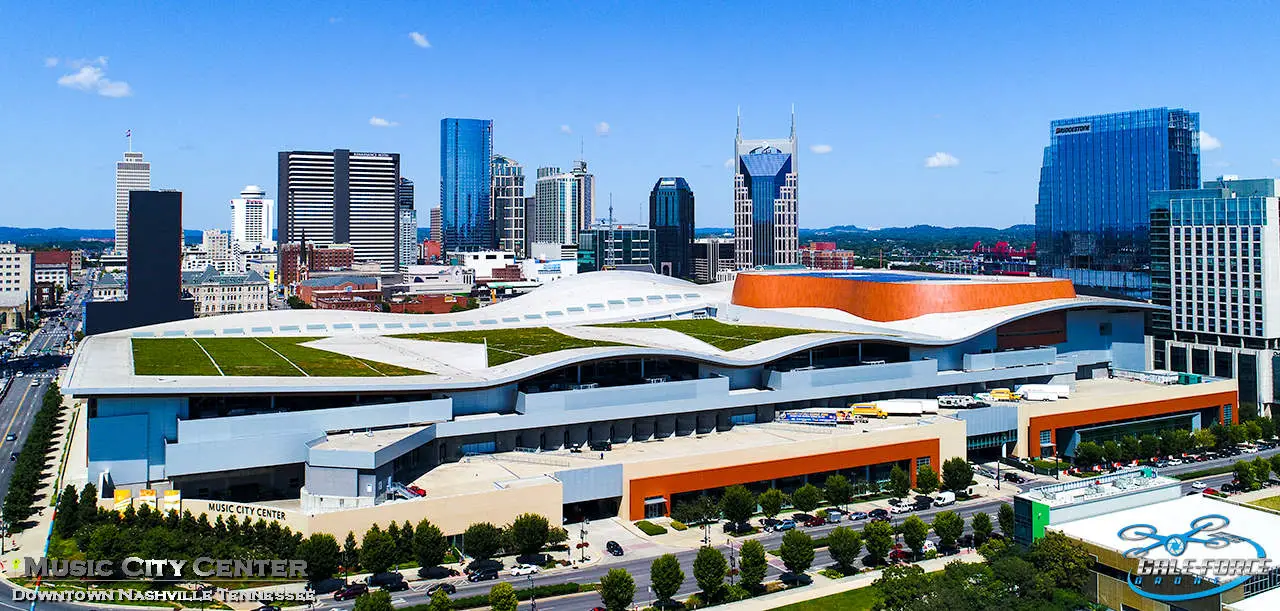 Aerial Photo of the Day
This photo of the Music City Center and the downtown Nashville skyline was shot while performing an Aerial photo and video project for a corporate client and their brand new HQ tower.
Music City Center
The Music City Center is a convention complex located in downtown Nashville, Tennessee, United States. It opened in May 2013. The complex was designed by Atlanta based, TVS Design, Nashville-based Tuck Hinton Architects, and Moody-Nolan Architects and a joint venture, Bell/Clark, headed up the construction management. Before work could start going up, the site teams had to start by going down. Over 200,000 cubic yards of rock and soil were excavated and the 16-acre site took 24 weeks to excavate. Soon after, the six red cranes were erected, the tallest of which reached 200 feet. The concrete team placed 110,000 cubic yards of structural concrete and 13,500 tons of rebar. Over 100,000 man hours were spent deciding where each piece of steel would go and 14,000 tons of structural steel was eventually placed. The project took three years to complete and over 7,300 people worked on the project during that time.
In January 2010, the Metropolitan Council of Nashville voted to approve construction of the Music City Center and the official groundbreaking for the center was held on March 22, 2010. It was decided that the convention center would be built in the new SoBro neighborhood, south of Broadway and right in the heart of downtown. The area was known as Black Bottom until the 1950s, nicknamed because of periodic river floods that left muddy residue on the streets.
In the background, you can see Nissan Stadium (NFL Tennessee Titans) as well as the AT&T "Bat Building". If you look closely, you can even see the rooftop of the Ryman Auditorium, Nashville's historic birthplace of country music and the Grand Ole Opry from 1943 to 1974.
How To Get Your FAA Part 107 Pilot Certification
If you are serious about making money with your drone, whether it be Real Estate, Aerial Inspections, etc., then you will need, from the FAA a 14 CFR Part 107 certification.
The best source for your training can be found by clicking on RemotePilot101. Jason Schappert is a pilot and author of 8 best-selling aviation flight training books. While studying and taking tests is not the most fun, Jason breaks it down into 10 easy to follow (at your own pace) video lessons. These lessons are straight and to the point giving you the exact knowledge, nothing less, nothing more than what you need to pass the exam. Additionally, he is continually updating the training to keep it relevant to any changes to FAA regulations. This membership is a 1-time subscription – for life! So when you're 24 month renewal comes around, just sign in to RemotePilot101 and refresh your training.
Just remember, if you are flying commercially, you will need your Part 107 certification. It's not hard, you can do it!